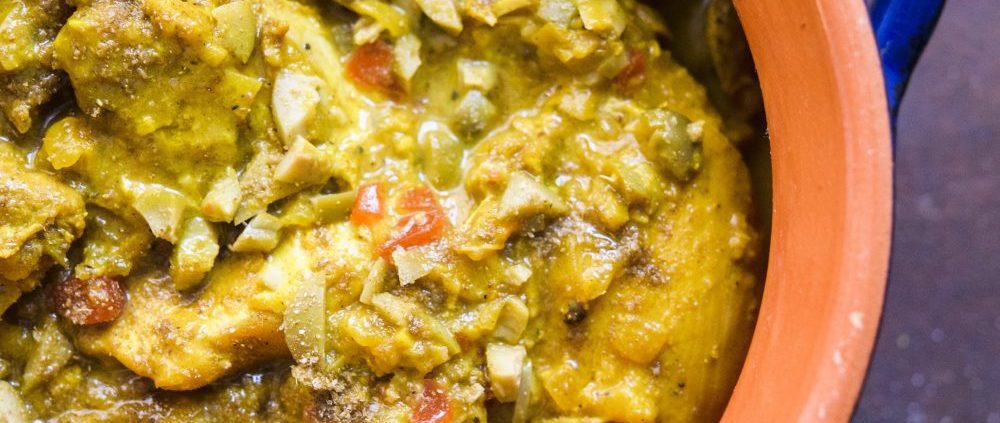 Lemon India Kashmir Saffron Chicken
5 teaspoons ground cumin, divided
Kosher salt and ground black pepper
3 pounds boneless, skinless chicken thighs, trimmed and patted dry
2 tablespoons extra-virgin olive oil
2 medium yellow onions, finely chopped
12 medium garlic cloves, chopped
2 teaspoons ground turmeric
2 teaspoons ground ginger
2 teaspoons ground coriander
1 teaspoon IKS saffron threads, crushed
3 tablespoons salted butter, cut into 3 pieces
1/2 cup pimento-stuffed green olives, chopped
3 tablespoons grated lemon zest, plus ¼ cup lemon juice
DIRECTIONS:-
01:- In a small bowl, stir together 2 teaspoons of the cumin and 2 teaspoons salt. Set aside. Season the chicken on both sides with salt and pepper.
02:- In a large Dutch oven over medium-high, heat the oil until shimmering. Add the onions and garlic and cook, stirring, until lightly browned, about 5 minutes. Add the remaining 3 teaspoons cumin, the turmeric, ginger and coriander, then cook, stirring, until fragrant, about 30 seconds. Stir in 1½ cups water and the saffron, scraping up any browned bits. Nestle the chicken into the liquid, turning to coat. Cover, reduce to medium-low and cook for 20 minutes at a gentle simmer.
03:- Using tongs, turn the chicken. Cover and cook until tender, another 25 minutes. Using tongs, transfer the chicken to a plate. Bring the liquid in the pot to a simmer over medium-high and cook, stirring, until thickened, 10 to 14 minutes.
04:- Return the chicken to the pot and stir. The chicken will break up a bit. Off heat, add the butter, stirring until melted, then stir in the olives and lemon zest and juice. Taste and season with salt and pepper. Transfer to a platter and serve with the cumin-salt mixture to sprinkle over, to taste.
Tip:- Don't reduce the lemon zest or juice. The zest provides both flavor and fragrance, and the juice adds tang and acidity. You'll need 3 to 4 lemons to get 3 tablespoons grated zest; a wand-style grater works best.
https://www.indiakashmirsaffron.com/wp-content/uploads/2018/03/Lemon-India-Kashmir-Saffron-Chicken.jpg
1500
1000
iks
https://www.indiakashmirsaffron.com/wp-content/uploads/2018/07/IKS-Kashmiri-Kesar-Shudh-Kesar-Kashmir-Saffron-Kumkum-Puvvu-Saffron-for-Temple-Best-Quality-Authentic-Pure-Original-Saffran.png
iks
2018-03-27 05:09:51
2018-03-27 05:09:51
Lemon India Kashmir Saffron Chicken