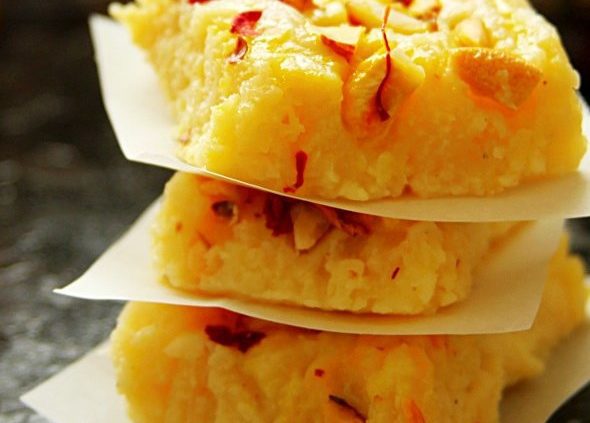 IKS Kesar Kalakand | India Kashmir Saffron Cottage Cheese Fudge
Paneer – 2½ packed cups, finely grated (around 250 gm)
Sweetened condensed milk – 1⅓ cup (1 14 oz can)
Milk powder – 4 tbsp (optional)
Cardamom powder – ½ tsp
IKS Saffron strands – a big pinch
Assorted nuts – 2-3 tbsp, chopped
Dried rose petals – 1 tbsp, to garnish
Before you begin, steep the saffron in 2 tbsp of warm milk so that they have time to release their color and flavor.
Also, grease a rimmed plate/tray with ghee and set aside. Alternately, line an 8″ baking pan with parchment paper and set aside.
Mix the paneer, condensed milk, milk powder and cardamom powder in a thick-bottomed large skillet or pan.
Start cooking this mixture on medium-low heat. When the mixture loosens in the heat, reduce heat to low (very important). Cook for 15 minutes, stirring frequently. You will see that the mixture thickens again and will begin to leave the sides of the pan. This will take more or less 15 minutes, so keep an eye on it.
Remove from heat and pour into the prepared plate or lined pan. Smooth well with a spatula or spoon.
Lightly drizzle the saffron and some of the milk on top. Top with chopped nuts and rose petals. Gently push them down into the kalakand with a spoon.
Allow kalakand to cool down, then cover with cling wrap and refrigerate for a couple of hours, or overnight.
Cut it into pieces, store the individual pieces covered in parchment or baker's paper in an airtight container in the refrigerator.
NOTES:-
1. You can either add the saffron milk to the kalakand mixture while cooking or just drizzle on top like I've done here.
2. Paneer kalakand has to be refrigerated. You can set it out on the countertop for 5-10 minutes before serving so that it is not too cold to eat.
https://www.indiakashmirsaffron.com/wp-content/uploads/2018/03/IKS-Kesar-Kalakand-India-Kashmir-Saffron-Cottage-Cheese-Fudge.jpg
644
590
iks
https://www.indiakashmirsaffron.com/wp-content/uploads/2018/07/IKS-Kashmiri-Kesar-Shudh-Kesar-Kashmir-Saffron-Kumkum-Puvvu-Saffron-for-Temple-Best-Quality-Authentic-Pure-Original-Saffran.png
iks
2018-03-27 05:33:27
2018-03-27 05:33:27
IKS Kesar Kalakand | India Kashmir Saffron Cottage Cheese Fudge