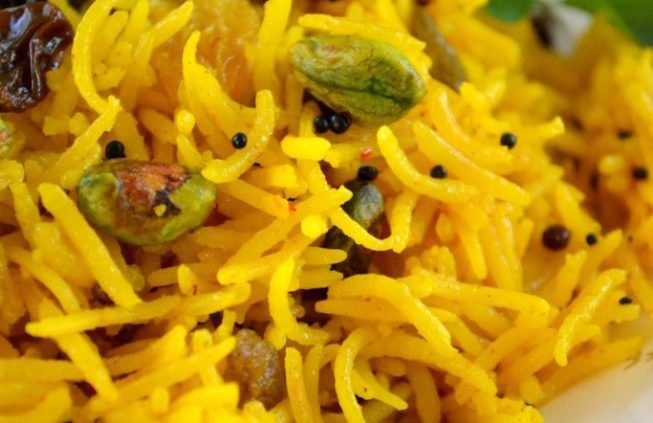 Indian Style IKS Kashmir Saffron Rice
2 Tbsp vegetable oil
1 tsp brown mustard seeds
1 Tbsp coriander seeds
1 tsp turmeric
1 cup basmati rice
In a heavy bottomed saucepan, heat 2 Tbsp of vegetable oil, and add the mustard seeds and coriander seeds. Cook them, swirling in the oil, until they start to pop and become fragrant. Don't let them burn, just toast.
Stir in the turmeric. Then add in the rice. Stir the rice until it is completely coated with all the spices, and let it toast for a minute, on a moderate heat.
2 cups water
2 pinches IKS saffron threads
1/2 tsp salt
fresh cracked pepper
Add in the water and the the saffron threads, crushing them as you scatter them in, salt and pepper. When the water boils, lower the heat, cover, and simmer for about 12 minutes, until the water is absorbed.
1/3 cup pistachios, raw
1/3 cup golden raisins
Take the rice off the heat, add in the nuts and raisins on top of the rice, but don't stir. Keep covered and let sit another 5 minutes.
Fluff the rice, add more salt and pepper if necessary, and serve hot.
https://www.indiakashmirsaffron.com/wp-content/uploads/2018/03/Indian-Style-IKS-Kashmir-Saffron-Rice.jpg
836
653
iks
https://www.indiakashmirsaffron.com/wp-content/uploads/2018/07/IKS-Kashmiri-Kesar-Shudh-Kesar-Kashmir-Saffron-Kumkum-Puvvu-Saffron-for-Temple-Best-Quality-Authentic-Pure-Original-Saffran.png
iks
2018-03-27 04:28:52
2018-03-27 04:30:18
Indian Style IKS Kashmir Saffron Rice