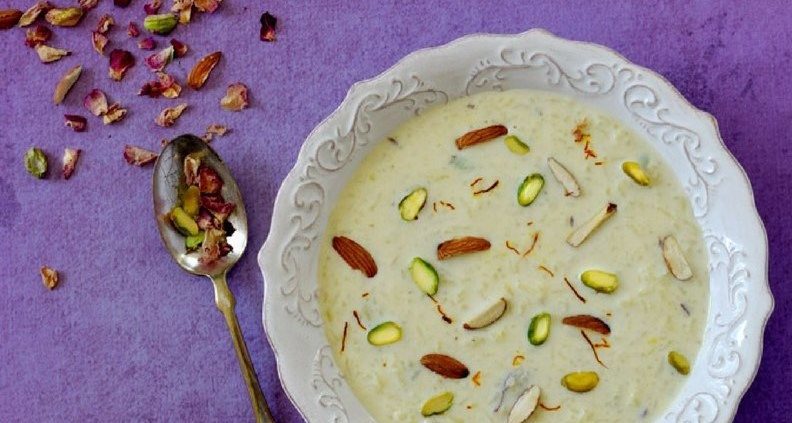 IKS Saffron Rice Kheer
Ingredients:-
2 teaspoon ghee
¼ cup/ 45 grams presoaked and drained short grain or basmati rice
4 cups/ 1 litre warm milk *
5 tablespoons sugar
Pinch of salt *
2-3 cardamom crushed
Generous pinch of IKS saffron strands
¼ cup chopped / sliced assorted nuts
2 teaspoon rose water optional
1 tablespoon dried rose petals optional
Instructions:-
Soak saffron in 1 tablespoon of warm milk and keep aside.
Heat up a heavy bottom non – stick pan . Add in ghee.
Now stir in the drained rice for 1 minute on medium heat.
Now slowly add in the warm milk .
Let it come to a boil. Stir occasionally .
Once it starts to boil , lower the heat and keep stirring often to avoid rice or milk sticking to the bottom and the sides.
The milk will start thickening and reducing within 20 minutes.
After 20 minutes , just check the rice , it should be tender enough .
Now add in the sugar, salt , cardamom and saffron milk.
Cook it for another 10 minutes. The milk should have considerably reduced.
Mash some rice with the back of the spoon if desired.
It might look thin , but remember after cooling and chilling it will considerably thicken up.
Stir in the chopped nuts .
Switch off the flame .
Serve warm or chilled .
Add rose water and rose petals just before serving.
Recipe Notes:-
Do not add sugar before rice is tender because the rice will take forever to cook .
I microwave the milk for 3 minutes before adding to the rice, this just quickens the process.
However you can skip the microwaving and directly add milk to the pan which will add up 15 additional minutes to the total time.
I always use a pinch of salt in desserts as it brings out the flavors really well, it's completely optional though.
I have used almonds and pistachios . You can add nuts of your choice and raisins too.
Adjust sweetness to your preference .
If kheer thickens a lot after chilling, just stir in few tablespoons of cold milk at a time.
Rosewater and food grade rose petals are completely optional.
https://www.indiakashmirsaffron.com/wp-content/uploads/2018/03/IKS-Saffron-Rice-Kheer.jpg
748
792
iks
https://www.indiakashmirsaffron.com/wp-content/uploads/2018/07/IKS-Kashmiri-Kesar-Shudh-Kesar-Kashmir-Saffron-Kumkum-Puvvu-Saffron-for-Temple-Best-Quality-Authentic-Pure-Original-Saffran.png
iks
2018-03-25 08:07:03
2018-03-25 08:09:46
IKS Saffron Rice Kheer